BI Products We Offer
DKM is a business intelligence service provider,We offer end-to-end services when it comes to these four BI products.
Tableau software is a data analytics & business intelligence platform tool that helps businesses make confident decisions by transforming data into actionable insights. DKM is proud to offer Tableau BI implementation services to match your unique business needs.

DKM Tableau services include:

Tableau License

Data Visualization

Development

Consulting

Tableau Implementation

Dashboards

Managed Services

Training

Looker is a tool that helps you explore, share, and visualize your company's data so that you can make better business decisions.

DKM Looker services include:

Data Visualization

Managed Services

Consulting

Training
A cloud-based, self-service business intelligence tool that helps analyze data using interactive dashboards and reports, AI capabilities and tight Excel integration.

DKM Power BI services include:

Consulting

Customization

Support

Managed Services

Implementation

Data Discovery

Training

Qlik Sense is a product that enables you to create interactive reports and dashboards with stunning charts and graphs. The visualization software simplifies data analysis and helps you make informed business decisions faster than ever before.

DKM Qlik services include:

Dashboards

Support

Data Discovery

Training
Neo4j Graph Data Platform,With proven trillion+ entity performance, developers, data scientists, and enterprises rely on Neo4j as the top choice for high-performance, scalable analytics, intelligent app development, and advanced AI/ML pipelines.

DKM Neo4j services include:

Consulting

Support

Implementation

Managed Services
The Fivetran platform manages the world's largest workloads with numerous database replication methods to power your real-time, low-impact data movement.

DKM Fivetran services include:

Consulting

Support

Implementation

Managed Services
Amazon Web Services (AWS) is the world's most comprehensive and broadly adopted cloud platform, offering over 200 fully featured services from data centers globally. Millions of customers—including the fastest-growing startups, largest enterprises, and leading government agencies—are using AWS to lower costs, become more agile, and innovate faster.

DKM AWS services include:

Consulting

Support

Implementation

Managed Services
Digital transformation is more than "lifting and shifting" old IT infrastructure to the cloud for cost saving and convenience. True transformation spans the entire business and enables every person to transform. We deeply understand today's technology requirements and the need to continuously innovate. That's why organizations build their transformation cloud and solve their biggest challenges with Google Cloud.

DKM Google Cloud services include:

Consulting

Customization

Implementation

Data Discovery
The Azure cloud platform is more than 200 products and cloud services designed to help you bring new solutions to life—to solve today's challenges and create the future. Build, run, and manage applications across multiple clouds, on-premises, and at the edge, with the tools and frameworks of your choice.

DKM Microsoft Azure services include:

Consulting

Implementation

Support

Managed Services
Want to make the best use of your enterprise data?
Let us help you devise the best BI strategy & solution.

Establish and develop industrial ecology
Since 2012, DKM had been providing data management "application" services for small medium enterprises while continuously gaining "hand-on" experiences to provide iterative capability support. Making use of "innovative technology + data culture" concept to improve data application capabilities for enterprises to accelerate digital transformation.

Three main key concepts
DKM provides enterprises with the latest data application methodology to help and assist them to avoid having obsolete information situation.
DKM the three main key concepts of application "application-data-capability", it helps enterprises to construct a realistic and agile data system which avoid taking the wrong paths and detours, comprehensively improve enterprise data literacy; and through building data communities to build enterprises' data culture. Transform enterprises digital transformation process.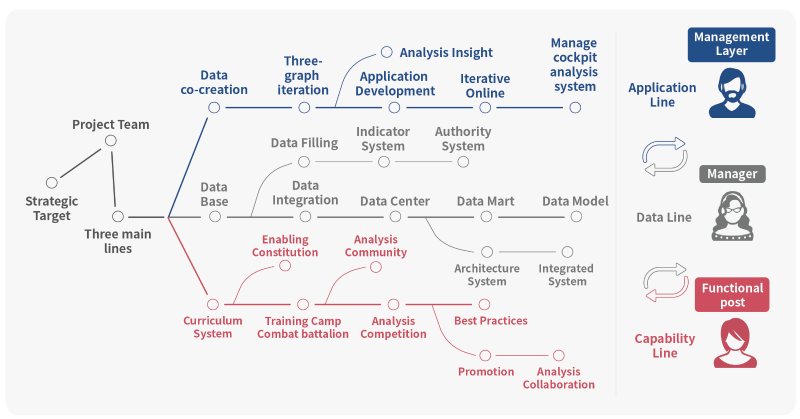 Data literacy
An important process in the digital transformation for enterprises is to improve the data literacy of organizations and individuals. More and more enterprises want to know how to effectively build data literacy. Based on the DKM accumulated experiences working with many enterprises, DKM created a competency model for data literacy, namely five kinds of abilities and one kind of consciousness, referred to as "five skills forces support with one knowledge domain".
To comprehensively improve enterprise data literacy, the critical success factors are to customize for each individual and tailored made for each organization. Create the awareness of active use of data among all employees, understand the data-driven approach, and build agile analysis capabilities, data integration capabilities, business insight capabilities, organizational communication capabilities, and systematization capabilities according to different management levels and roles.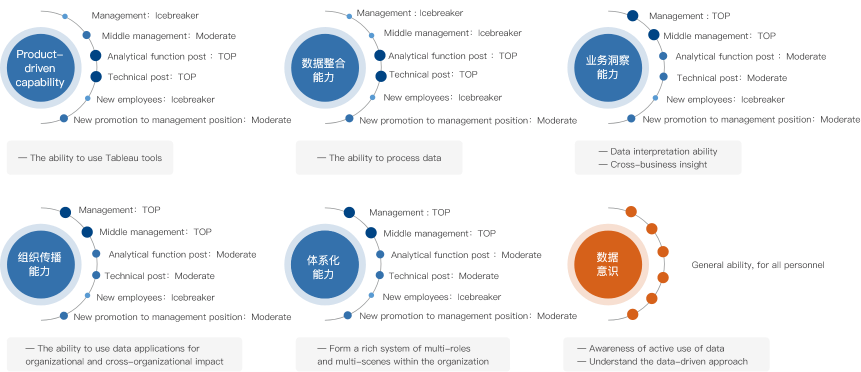 Supporting indicators
The use of data assets by enterprises needs to make plans and implement with clear subsequent steps, and they need to continue to monitor for progression in accordance to plan. The larger the enterprise, the more complex the data application scenarios, and the more iterative plans are needed to achieve agilely. By setting core and supporting indicators respectively helps to provide a clear direction for execution, and efficient optimization.
Take a large enterprise as an example: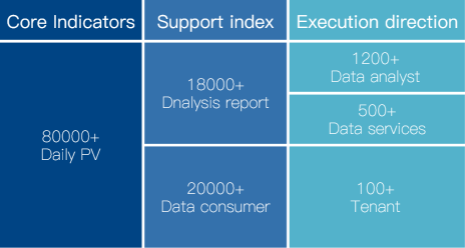 Daily average PV support indicator
●

Number of analysts

●

Number of analysis reports

●

Number of data services
Kickstart Your Dream Project With Us
We have worked with some of the best innovative ideas and brands in the
world across industries.

DKM Data Technology Co., Ltd.
2012-2023 (c) DKM